In this issue:
General News | Featured Tool | College Planning | Who's Who | Financial Aid
Scholarships & Other Aid Opportunities | Financial Literacy | Student Loan Management | Calendar
General News
Ask the Expert: What Should I Know About Upcoming Loan Changes?
Several changes to student eligibility for Title IV aid and to student loan terms are scheduled to take effect on July 1, 2012, as a result of various legislation enacted as far back as 2007.
Section 484(d) of the Higher Education Act (HEA) of 1965 has long provided that a student without a high school diploma or equivalent could receive Title IV financial aid if the student demonstrated an "ability to benefit" from the educational program by passing an independently-administered examination approved by the Department of Education, or by successfully completing six credit hours that were applicable toward a degree or certificate offered by the institution. The Consolidated Appropriations Act of 2012 eliminated the "ability to benefit" option from the HEA. For students first enrolling in a program of study on or after July 1, 2012, the student must have a valid high school diploma or recognized equivalent, or have completed secondary school in a homeschool setting in order to qualify for Title IV assistance. Students previously admitted under the "ability to benefit" provision may continue to receive aid if they are otherwise eligible.
In addition, four upcoming changes to Title IV student loan terms will result in higher borrowing costs for students:
Grace Period Interest Subsidy - Current subsidized Stafford loan borrowers receive an interest subsidy during their grace period; the Consolidated Appropriations Act of 2012 temporarily eliminates the subsidy. If left unpaid by the borrower, the interest accrued during the grace period will be added to the loan's principal balance. This change is effective for loans first disbursed July 1, 2012 through June 30, 2014.


Interest Subsidies for Graduate and Professional Students - Under the Budget Control Act of 2011, graduate and professional students are no longer eligible for subsidized Stafford loans. They are, however, able to borrow an additional amount in unsubsidized loans, equal to the amount in subsidized loans they would have received. This change is effective for loan periods beginning on or after July 1, 2012.


Interest Rate for Undergraduate Subsidized Stafford Loans - In 2007, the College Cost Reduction and Access Act of 2007 reduced the fixed interest rate on subsidized Stafford loans to undergraduate students in stages from 6.8 to 3.4 percent. There are bills currently up for vote in both the Senate and the House of Representatives to maintain the reduced interest rate. However, unless a bill becomes law, the interest rate will return to 6.8 percent for loans originated on or after July 1, 2012. This interest rate does not apply retroactively to loans made prior to July 1, 2012.


Interest Rate for Undergraduate Subsidized Stafford Loans - In 2007, the College Cost Reduction and Access Act of 2007 reduced the fixed interest rate on subsidized Stafford loans to undergraduate students in stages from 6.8 to 3.4 percent. There are bills currently up for vote in both the Senate and the House of Representatives to maintain the reduced interest rate. However, unless a bill becomes law, the interest rate will return to 6.8 percent for loans originated on or after July 1, 2012. This interest rate does not apply retroactively to loans made prior to July 1, 2012.
Exit Counseling 101
Graduation is rapidly approaching and many college students are busy thinking about what life will be like without papers to write and tests to take. As higher education professionals, we know these students should be focusing on finding a job and preparing to start making payments on their student loans.
That's where exit counseling comes in! OCAP offers campuses free customized assistance with in-person exit counseling that will help students understand their federal student loan obligations and prepare for successful repayment. At no charge to the school, trained OCAP professionals will travel to campuses statewide and conduct exit counseling sessions.
OCAP also offers support for schools that prefer to offer custom exit counseling. Here are a few tips to help you make the most of your in-house exit counseling sessions.
Examples, examples, examples
Graduating students are looking toward the future, but they still have a lot on their minds. Use lots of examples from your experience (without using names, of course!) to help students understand the importance of paying their student loans on time, the consequences of default and the many available repayment options.


Make information accessible
Students will absorb a great deal of information during exit counseling sessions, but they may not remember the information later when it matters most. Be sure to provide take-away items for students to reference later. If possible, offer these materials on your website, too, and give students direct links to the information they need.


Introduce the National Student Loan Data System (NSLDS)
The transition from FFELP to Direct Loans is sure to confuse many students who may carry loans in both programs. Make sure students know that NSLDS is a free, simple resource that can help them access and organize their loan information.
If you need more help, you can also request our complimentary Exit Counseling Toolkit, which includes a PowerPoint presentation and handouts. Contact Scott DeBoard in OCAP's training department at 405.234.4233 or sdeboard@ocap.org for more information.
Strengthen Freshman Orientation with Financial Literacy
Each year, thousands of Oklahoma's college freshmen start their new lives on campus, beginning with freshman orientation. Freshman orientation sessions cover a multitude of subjects to help students acclimate to campus life, and it's important to devote some time to financial literacy. Oklahoma Money Matters (OKMM), the financial literacy initiative of the Oklahoma College Assistance Program and Oklahoma State Regents for Higher Education, offers just the right tools to help your campus prepare students to manage their money - including financial aid and student loans - wisely during this critical transition.
In addition to providing helpful publications and tools for use in orientation activities, OKMM can also offer customized personal finance presentations during freshmen orientation and many other services, including:
Train-the-trainer events to empower campus faculty and staff to deliver key personal finance messages.
Engaging workshops that cover basic budgeting, saving, consumer credit, identity theft prevention and student loan management.
Access to numerous free educational materials, including worksheets, newsletters, podcasts and the acclaimed Your Money Matters guide for college students.
Visit OklahomaMoneyMatters.org (external class)for more information about OKMM services and resources. Contact OKMM at OklahomaMoneyMatters@ocap.org, 405.234.4488 or 800.970.OKMM (toll free) to schedule a freshman orientation workshop or other financial education event.

OKMM Reveals New Site Design, Simpler Navigation
Oklahoma Money Matters recently launched a site refresh (external class) featuring updated navigation, easier-to-find Web tools and a more modern color scheme and logo.
"We serve multiple populations with varying needs, so we decided to structure our site based on audience," said Angela Caddell, OCAP Director for Communications, Financial Education and Outreach. "Now there's a dedicated section of the site for each audience we serve, which features information and tools designed specifically for them," she added. In addition, there's a "What's New?" section so users can quickly see what's been updated on the site since their last visit.
OKMM's most popular online services, the Ask OKMM Q&A Forum, Resource Clearinghouse and Learning Modules, are accessible from the home page, making it easier to give the people you serve access to these helpful tools.
Check out the new site format today, and email OklahomaMoneyMatters@ocap.org to let us know what you think. If you share our materials and tools with the people you serve, please work with us to update those links as the site location may have changed.

Featured Tool
OKMM Releases New Materials for Community Partners and Workplace Educators
Oklahoma Money Matters (OKMM), OCAP's financial literacy initiative, is offering free copies of our Your Money Matters guides for adults in the workplace and adults with fewer financial resources. The workplace education guide is designed to help families successfully leverage earnings and manage spending to build wealth. The lower-resourced guide helps adults with fewer resources develop realistic strategies for family financial empowerment.
In addition to the guides, OKMM is pleased to release corresponding lesson plans that cover credit report monitoring-PDF (external class) (workplace education guide) and avoiding identity theft-PDF (external class) (lower-resourced guide).
To request copies of our guides for your clients, for your employees, or for use in educational workshops, email OklahomaMoneyMatters@ocap.org. Don't wait; quantities are limited. Lesson plans are available for free download at OklahomaMoneyMatters.org (external class).

Who's Who
Do You Know Cathy Mueller?
Meet Cathy Mueller, executive director of Mapping Your Future.
Tell us what you do at Mapping Your Future®.

As the executive director, it is my daily responsibility to make sure that we carry out our mission to help students lead successful lives. My job is made a lot easier by great volunteers, staff and higher education professionals. With their help, we are able to provide information and services to students, parents, and schools; and we are able to accomplish our mission.

What's your favorite thing about your job?

The greatest thing about my job is knowing that we've helped someone accomplish their goals, whether it's a parent seeking guidance to help a son or daughter, a high school student who's not sure how to navigate college preparation, a student loan borrower wanting to know how to manage their loans, or a financial aid professional wanting services that will help their students. Although we provide all of our services online, we do have a lot of communication with those who visit our website and use our services, and it's profoundly gratifying to hear someone say that we've made a difference in their life. It's also very humbling when you realize that helping someone means as much to you as it does to them.

What resources does Mapping Your Future offer?

Mapping Your Future offers all kinds of college, career, financial aid, and financial literacy information and services. We are probably best known among financial aid professionals for our counseling programs, both regulatory and non-regulatory, that help students understand financial aid, manage their loans, and meet federal counseling requirements. In addition, we offer a number of other services to schools; some services, such as our calculators, can be integrated into a school's website. We also offer training, worksheets, and downloadable materials for schools to distribute to students. A new service we offer, called MappingXpress™ , enables school professionals to quickly and easily collect documents from students, including those required for verification or scholarship applications. We also offer services aimed at high schools around the world. Our Guide to Life After High School™ counseling program provides life-skills information for students and helps them understand the decisions they make now will impact their life beyond high school.

How can people take advantage of these services?

We encourage schools, colleges, and universities to link to Mapping Your Future to enable their students to take advantage of the information and services we offer. In many ways, we see ourselves as an extension of the financial aid office in that we help them provide information and services to students so they can focus on the most critical situations that need their attention. Schools, colleges, and universities can use information and services just by visiting our website. To access some of the more advanced services, they can become participating members, a free service in sponsored states including Oklahoma, where OCAP sponsors Mapping Your Future.

Are there any upcoming products or projects you'd like to discuss?

Our upcoming and recent events include training services for participating members' schools and counseling programs for non-traditional and adult students. We also recently developed a page on our website, Learn more about student loan servicers (external class) , where viewers can find information about new online servicers as well as a list of the current nonprofit servicers. We think this is important default prevention information and encourage schools to link to this page and share this information with their students. Finally, we have new features we are developing in both the counseling programs and MappingXpress™ .

To learn more about Mapping Your Future's services, please contact Cathy at cathy@mappingyourfuture.org or 940-497-0741.
College Planning
2012 Summer Academies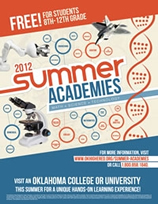 Are you looking for fun and inexpensive ways to entertain middle and high school students this summer? Consider signing them up for one of this year's FREE Summer Academies!
This year, 29 Summer Academies in math, science and technology, will be offered to 8th-12th grade students on college campuses across Oklahoma. Participating students will have an excellent opportunity to gain hands-on experience in cutting-edge career fields, such as aeronautics, engineering, biotechnology, forensic science and more!
Not only will Summer Academies students have a unique opportunity to learn about exciting careers, they'll also have a unique advantage in college. Seventy-three percent of Summer Academies students go directly to college after high school (compared to 56 percent of all students) and more than 80 percent of Summer Academies students go on to earn at least a bachelor's degree (compared to 22 percent of all Oklahomans). Furthermore, Summer Academies students are better prepared for college and require one-third fewer remedial courses than non-Summer Academies students.
Remember, there's no cost to participate in the 2012 Summer Academies. Don't spend another day wondering what your students will do this summer; enroll them now before the sessions fill up! For a complete list of 2012 Summer Academies and enrollment information, visit www.okhighered.org/summer-academies (external class) or call 1-800-858.1840 (toll free).
Seize Summer to Get College Ready
Summer is nearly here and it's a great time for high school students to think about life after graduation. If your students are thinking about continuing their education, encourage them to take time out this summer to plan and prepare for college.
Students should already be enrolled in the right classes and focusing on getting good grades. Here are a few more ways they can start preparing for higher education during summer break.
Volunteer
Encourage students to seek out volunteer experiences in the community and explain the benefits of volunteerism. Volunteers of America (external class) offers a list of statewide volunteer opportunities. Remind students who already have a lot of volunteer experience to make a list of those activities - write down what they learned, which skills they developed and how those skills will help them succeed in the future. They can refer to this list when writing those admission and scholarship essays.

Job Shadow
Students should talk to their counselor or parent(s) about their career goals. Once they've identified some goals, it's a good idea for them to talk to someone who works in that profession and "shadow" that person for a workday to see what the job entails. This experience can give students more insight on career options and help them figure out which jobs may be a good match to their interests and strengths.

Get ready for the ACT/SAT
The ACT and SAT exams play a big role in college admission. Encourage your students to an ACT or SAT prep course over the summer, so they'll feel more confident when it's time to take the test. Free practice exams are available online at OKcollegestart.org (external class) under the Test Prep tab. Students should take the ACT or SAT more than once to increase their chances of improving their score.

The ACT is more common in Oklahoma; students should check with their prospective schools to find out which test is preferred or required.

Work hard, save money
The ACT and SAT exams play a big role in college admission. Encourage your students to an ACT or SAT prep course over the summer, so they'll feel more confident when it's time to take the test. Free practice exams are available online at OKcollegestart.org under the Test Prep tab. Students should take the ACT or SAT more than once to increase their chances of improving their score.

The ACT is more common in Oklahoma; students should check with their prospective schools to find out which test is preferred or required.

Research
How will your students figure out which colleges are a good fit and what majors will lead them to their ideal career? Summer is the perfect time for students to visit college campuses and take campus tours to learn more about what each institution has to offer. The State Regents' college planning portal, OKcollegestart.org (external class), allows students to research Oklahoma colleges and universities online.

Tend Goals
Writing down their goals and posting them on the refrigerator or a bathroom mirror can help students stay focused on making those goals a reality. To get into their dream school or score a scholarship, students must outline and complete the action steps that will make it happen.
OCAP (external class) offers free tools to help families plan, prepare and pay for college. Students and their parents can visit UCanGo2.org (external class) for a wide selection of useful resources.
Financial Aid
Negotiated Rulemaking Update
At the end of March, the U.S. Department of Education (ED) and the negotiated rulemaking committee reached consensus on the 25 issues outlined in the October 28, 2011 Federal Register notice (external class). Additional information about the ongoing discussion of these issues can be viewed on ED's webpage (external class) for this rulemaking team. Additionally, the National Council of Higher Education Loan Programs (NCHELP) is currently working on a side-by-side analysis comparing the current regulations to the proposed changes during the rulemaking session. Once complete, NCHELP's analysis will be available to the public.
OASFAA 2012 Conference a Success
Registration for the Oklahoma Association of Student Financial Aid Administrators (OASFAA) annual conference in April exceeded 220 participants, making it one of the most successful conferences in OASFAA's recent history!
"Serving as a committee chair this year allowed me to get an inside look at what it takes for the OASFAA planning committee to find a location and event center that will accommodate our conference size while keeping costs down," said Penny Gandy, OCAP's outreach manager.
OASFAA Program Chair Scott DeBoard added, "The Program Committee worked very hard to build a program that would be relevant for all OASFAA members. We had presenters from the Department of Education, NASFAA, SWASFAA, as well as from our own membership. I hope that everyone who attended was able to glean valuable information that they can implement at their own institution."
Indeed, coordinating such large-scale events is a lot of work, so here's a big thank you to all the committees who booked great presenters, made sure attendees received significant and up-to-date information, and provided an opportunity to unite friends and colleagues in a fun learning environment.
Check out these photos (external class) from the conference and let us know if you're interested in volunteering to serve on a committee for next year's conference in Tulsa!
While we're on the subject, don't forget to mark your calendars for OCAP's next annual conference on 10.11.12! The conference, Counting on a Bright Future, will be held at the Moore-Norman Technology Center, South Penn Campus and will feature a broad variety of significant higher education topics. Additionally, OKMM is offering a pre-conference financial literacy training event on October 10 for educators, counselors, aid administrators and service providers. Stay tuned for more details soon.
Help us make the conference even more helpful and relevant for your work by sharing session ideas that are meaningful for you and the people you serve. We look forward to seeing you in October!
FSA's New FAFSA Completion Tool
We've said it before, and we'll say it again - completing the Free Application for Federal Student Aid (FAFSA) is essential for high school students planning to attend college this year. Do you know how many of your students have started or completed the FAFSA? Would you like to?
Federal Student Aid (FSA) offers this information for each state, organized by city and school name, through their FAFSA Completion by High School Data Center (external class). The information is updated every two weeks and can help you track how many students have started or completed the FAFSA. Check out your school's results today!
OCAP's outreach team can help you boost FAFSA completion rates at your school. Check out UCanGo2.org (external class) or contact our Outreach department at 405.234.4365, 866.443.7420 (toll free) or UCanGo2@ocap.org.
Call for Nominations: 2012 Pell Grant Legacy Award
To celebrate the Pell Grant's 40th year, The Pell Institute for the Study of Opportunity in Higher Education will hold an award luncheon in New York City this fall. Four current and past recipients will receive a Pell Grant Legacy award, which will honor recipients who exemplify "Moxie" - the word U.S. Senator Claiborne Pell used to describe those who embodied courage and perseverance in overcoming adversity to achieve success.
In partnership with the Pell Institute, the National Association of Student Financial Aid Administrators (NASFAA) is leading the nomination process for the Pell Grant Legacy Award. The deadline for nominations is May 25. For more information and instructions to submit a nomination, visit survey.nasfaa.org/se.ashx?s=0D4B47FE6F558BD5 (external class).
What's New on IFAP?
Electronic Announcements
Gainful Employment (GEEA)
General
Loans
Common Manual Update
The latest version of the Integrated Common Manual is available on the Common Manual website. (external class) As always, if you have questions about the manual, contact our Policy, Compliance and Training department at 405.234.4432, 800.247.0420 (toll free) or pct@ocap.org.
Scholarships and Other Aid Opportunities
Oklahoma's Promise is a unique program for eighth through 10th-grade students that will help pay for a college education if parental income is $50,000 or less at the time the student applies for the program.
Oklahoma's Promise will pay a participating student's tuition at an Oklahoma public two-year college or four-year university. The scholarship will also cover at least a portion of tuition at an Oklahoma accredited private college or university or for courses offered at public technology centers that qualify for credit from an Oklahoma public two-year college.
"This year (2012) is the 20th anniversary of Oklahoma's Promise and some 20,000 college students are currently receiving the award. Students in the program continue to demonstrate success with higher-than-average GPA's, college-going rates, and degree-completion rates. We believe the program has a significant positive impact on the lives of students, their families, their communities, and our state as a whole," said Bryce Fair, Oklahoma State Regents for Higher Education associate vice-chancellor for state grants, scholarships and student services.
In addition to family income and grade/age requirements, eligible students must:
take 17 units of required college prep courses in high school;
earn a cumulative 2.5 GPA or better in the 17 required units and a cumulative 2.5 GPA for all courses in grades 9-12;
do their homework and attend classes;
stay drug-and alcohol-free, and stay out of trouble;
meet with a teacher, counselor or principal to go over schoolwork and records;
provide information when requested;
apply for other financial aid during the senior year of high school; and
take part in Oklahoma's Promise activities to prepare for college.
Other requirements and restrictions may apply. The 2012 application deadline for essay submissions is July 2, and the application must include accurate family income documentation.
Learn more about Oklahoma's Promise at okhighered.org/okpromise (external class) and find more scholarship programs on OCAP's Scholarship Opportunities page (external class).
Financial Literacy
Job Hunting on Budget
Announcements mailed - check! Cap and gown, purchased and pressed - check! What's next on a soon-to-be graduate's to-do list? Job hunting! Check out these tips to help grads find a job without busting the budget.
Use Free Resources
To get the scoop on job leads, grads should take advantage of the school's placement office, attend job fairs on campus or contact the local Chamber of Commerce. Those in the OKC metro area can take advantage of the Greater Oklahoma City Chamber's Greater Grads Program (external class), which encourages people to explore the benefits of living and working in Oklahoma City through participation in career fairs and internship opportunities with Oklahoma City-based companies.

Get the Look
Which comes first, a great job or a great work wardrobe? Thankfully, this isn't a trick question; looking professional doesn't have to cost a fortune. Recent grads should peruse local consignment shops, thrift stores and garage sales to build a quality work wardrobe for a fraction of retail prices.

Network
Networking is one of the most powerful and inexpensive methods of job hunting. Sometimes, who you know is just as important as what you know. Encourage grads to list their contacts and brainstorm how they may be able to help in the job search. Don't forget the power of social networking sites; grads should consider building a LinkedIn (external class) profile to connect with people who're working in the field they're interested in or at companies they'd like to work for.
For more tips on successfully transitioning from college to the workforce, including creating a job-winning resume, acing interviews and evaluating job offers, check out OKMM's Transition to Independence learning module at OklahomaMoneyMatters.org (external class).
Student Loan Management
Non-Traditional Student Counseling Session Now Available
According to the National Center for Education Statistics (external class), the number of college students over the age of 25 increased to more than 42 million in 2010. Colleges and universities now have access to a new tool to help one of their fastest growing populations.
Mapping Your Future's (MYF) Non-Traditional Student counseling session is designed to help adult learners overcome barriers to higher education and successfully complete a degree. The new counseling session addresses a variety of topics, including:
Returning to school.
College admission.
Selecting a field of study.
Financial aid.
Financial literacy and money management.
MYF's counseling services are free. Schools that already participate in MYF's Online Counseling will need to add this new counseling type to their account to begin offering it to students.
Postsecondary schools that have an existing Online Counseling account and would like to add Non-Traditional Student counseling to their participation categories should contact MYF customer care staff at feedback@mappingyourfuture.org.
Schools that don't have an Online Counseling account should complete the school submission form at mappingyourfuture.org/oslc/schoolsignup.cfm (external class) to request participation.
To experience this counseling from the student perspective, follow these steps:
Choose Texas as your state.
Select MYF Demo School as your school.
OCAP's New Default Prevention Listserv
OCAP is building a default prevention listserv that will allow us to better serve campus default prevention specialists and allow them to share their expertise and learn from others.
Members of the new default prevention listserv will receive:
Default prevention and management tips;
Information about new OCAP publications and services;
Industry news about default prevention;
Information about best practices from OCAP's Default Prevention business expert group;
Default Prevention School Tool updates; and
Suggestions for reaching delinquent borrowers.
If you're interested in joining our default prevention listserv, send your name, email address and phone number to Wayne Sparks, OCAP's default prevention manager, at wsparks@ocap.org.
OCAP's default prevention team is always available to help. Contact us at 405.234.4352, 800.358.5460 (toll free) or wecanhelp@ocap.org, and visit us online at OCAP.org (external class) and on our Facebook page, Student Loan Repayment Scoop (external class).
People News
The OCAP Training Department recently welcomed Scott DeBoard as our new training specialist. We're so happy you're here, Scott!
Calendar