:: OCAP News Headlines ::
March/April Edition of Your Bottom Line Now Available
Oklahoma Money Matters presents the March/April edition of Your Bottom Line, a bi-monthly newsletter produced with personal finance organizations, educators and consumers in mind.
---
Oklahoma Money Matters Offers New Video: What Factors Determine Your Credit Score?
Oklahoma Money Matters, the financial education initiative of the Oklahoma College Assistance Program (OCAP), strives to help people take control of their money and make positive financial choices. Learning to manage credit is a crucial piece of the personal finance puzzle, so we created What Factors Determine Your Credit Score?, a short video that explains the six basic categories that factor into your credit score and simple steps you can take to maintain a positive credit history.
The video is available on OCAP's YouTube Channel and on the Videos page at OklahomaMoneyMatters.org. Feel free to share this video or link to it from your website.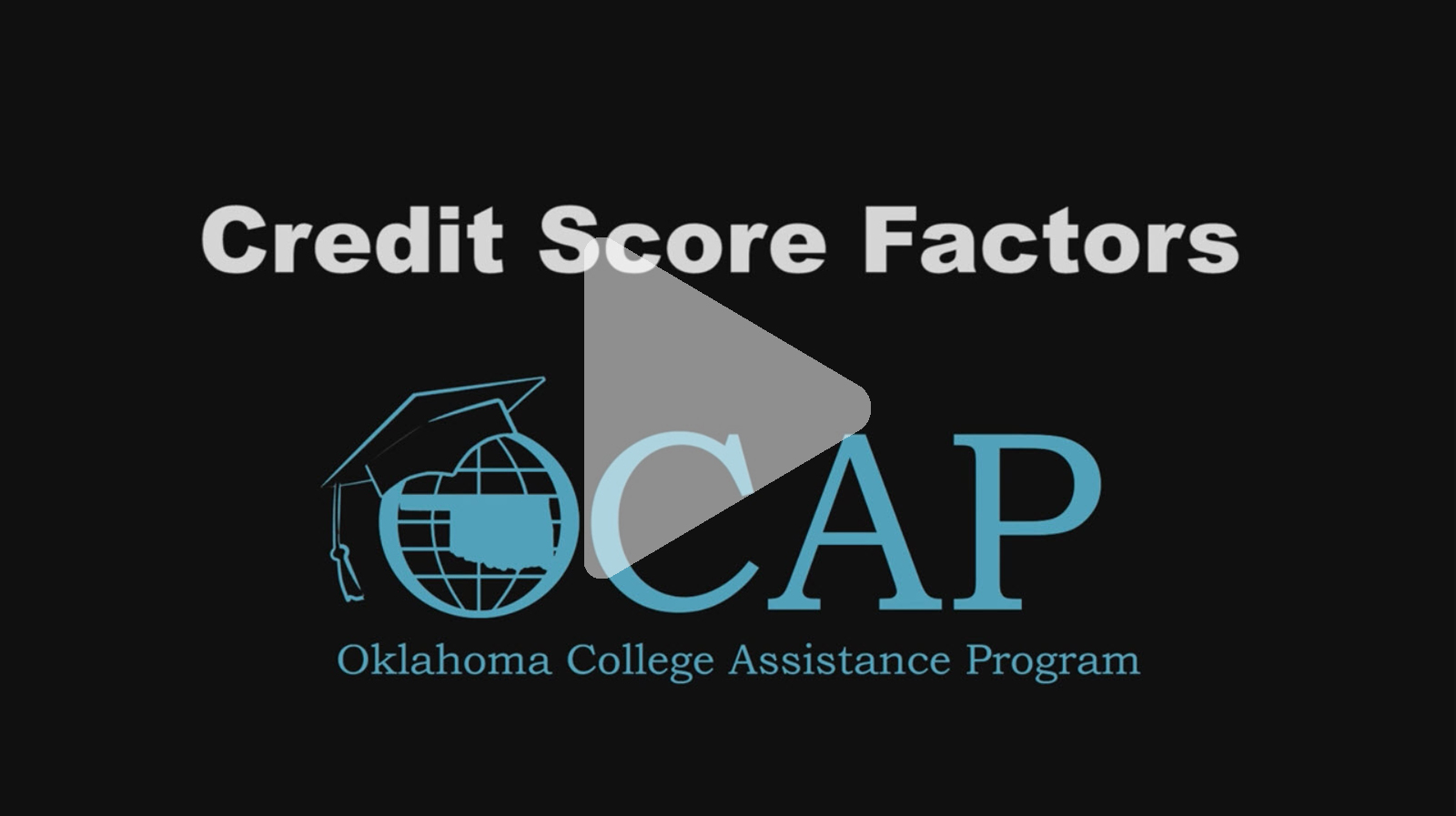 ---
2017 College Application Week Results & Call for Photos
We're pleased to announce the results of our statewide 2017 College Application Week (CAW) efforts. The following numbers represent all schools registered for the CAW 2017 sponsored by the Oklahoma College Assistance Program and OK GEAR UP program!
Number of participating high schools: 91
Number of students who completed college applications: 6,281
Number of colleges to which students applied: 284, representing 41 states and six countries
We saw a tremendous increase over CAW 2016, and we're looking forward to an even bigger CAW this year! Thank you so much for your hard work and dedication to our students.
Do you have any photos or video footage from your College App Week that you'd like to share?
We'd like to showcase your CAW activities in our next promotion video for CAW 2018. To submit your photos or video footage, email them to Landis Tindell at ltindell@ocap.org.
If you provide photos or video footage, we're required to make sure that release forms are signed for the students who appear in the images you send.
Use the Email Consent and Release form if you can verify that every student and parent in the images has signed a blanket form granting permission for their image to be used for publicity, according to your school's policy. One representative of your school who has authority to give consent for us to use the images and/or video footage must send the form to Landis Tindell.
Use the Consent and Release form if there is no blanket form granting permission to use a student's or parent's image for publicity. Each student and parent in the images should sign his/her own form. If the student is under the age of 18, a parent must also sign. Consent and Release forms signed by individual students/parents can be scanned and emailed to Landis Tindell or faxed to Letha Huddleston at 405.234.4550.
Please let us know if you have any questions.
---
New Poster on Interest Capitalization of Student Loans
Ready Set Repay, the default prevention initiative of the Oklahoma College Assistance Program (OCAP), is pleased to share our latest tool for financial aid partners: our new Interest Capitalization poster!
As part of OCAP's continuing mission to help you teach students across the state how to make smart borrowing decisions and successfully repay their student loans, we are constantly developing new educational materials. Our latest poster focuses on the long-term benefits to students of making interest payments toward student loans while still in college.
Click here to preview or print the poster. For more financial aid and default prevention resources, visit the Partners section at ReadySetRepay.org.
---
Upcoming OKcollegestart Workshops
OKcollegestart is offering four training workshops this spring. These workshops will provide hands-on training in the use of OKcollegestart.org and the Professional Center, with a focus on Individual Career Academic Plan (ICAP) tools. A workshop agenda may be found on the OKcollegestart Educator's Resources page.
OKcollegestart workshop dates and locations are provided below. Each workshop runs from 9:00 a.m. to 12:00 p.m. Choose the date and location below that work best for you and click the date to register. Space is limited, so be sure to reserve your place as soon as possible.
Tuesday, February 20
Oklahoma State Regents for Higher Education
Oklahoma City
Friday, March 2
University Center of Southern Oklahoma
Ardmore
Tuesday, March 6 (Workshop full)
OSU-Tulsa
Tulsa
Thursday, March 8
NWOSU-Enid
Enid
Thursday, March 29
OSU-Tulsa
Tulsa
We hope you'll join us for a fun and informative morning of learning!
---
The Oklahoma FAFSA Data Portal is Available!
The Oklahoma State Regents for Higher Education (OSRHE) and the Oklahoma College Assistance Program (OCAP) are now offering the Oklahoma FAFSA Data Portal (OK-FDP), a free online tool to help counselors, principals and mentors better assist their high school seniors to successfully complete the Free Application for Federal Student Aid (FAFSA).
By giving authorized individuals from Oklahoma school districts access to student-level information on FAFSA completion status, the OK-FDP will allow educators to provide more targeted assistance to their students. This is instrumental in increasing FAFSA completion rates – especially among first-generation students pursuing postsecondary education. Learn more and get started here!
---
January/February Edition of Your Bottom Line Now Available
Oklahoma Money Matters presents the January/February edition of Your Bottom Line, a bi-monthly newsletter produced with personal finance organizations, educators and consumers in mind.
---
Happy Holidays from OCAP
---
OCAP's Partnership with Student Connections is an Investment in Student Success
The Oklahoma College Assistance Program (OCAP) recognizes the impact default prevention has on the mutual success of institutions and borrowers. Helping schools excel in this area is what led Mary Heid, OCAP's executive director, to work with Student Connections, a nonprofit affiliate of USA Funds focused on enhancing student success in college and career. Under Heid's leadership, OCAP forged an arrangement with Student Connections to provide default rate management support to 26 Oklahoma campuses with CDRs (cohort default rates) above 10 percent. The agreement provides the schools with the ability to offer comprehensive grace period and default prevention counseling to their borrowers.
Since OCAP began working with Student Connections, it has seen marked improvements in beneficiary school CDRs. "Our schools all seem extremely happy with the service we've been able to offer them through Student Connections," said Heid. "Our state CDR rate has been declining at a greater pace than the national rate, which makes us feel really good that our service is working."
Student Connections grace counseling informs borrowers of all options, which may include a return to school. In all cases, the objective is to determine the course of action best for the borrower's individual circumstances. Since the OCAP partnership with Student Connections began, students who underwent grace counseling were more than 40 percent less likely to enter delinquency on their student loans.
Whether it's measured in reduced default and delinquency rates or in the hundreds of millions of cured federal loan dollars, it's clear the OCAP-Student Connections partnership has helped preserve the value proposition of higher education in Oklahoma. As Heid says, "I think this investment in our students and institutions is rather unique, and we are very pleased that we've been able to do that with an industry partner that shares our vision of student success."
Read more about the Student Connections-OCAP partnership at the Student Connections website.
---
icon indicates a link to an external website.
---
:: Our Website Network ::