:: OCAP News Headlines ::
October Edition of Your Bottom Line Now Available
Oklahoma Money Matters presents the September edition of Your Bottom Line, a monthly newsletter produced with personal finance organizations, educators and consumers in mind.
---
New Video: Tips to Avoid Identity Theft
Oklahoma Money Matters, the financial education initiative of the Oklahoma College Assistance Program (OCAP), strives to help people take control of their money and make positive financial choices. Identity theft is a growing issue and it can take a lot of time and effort to repair the damage. It's important to take special precautions to protect your personal information, so we created Tips to Avoid Identity Theft, a short video that explains how to guard your information from would-be thieves and what to do if you suspect your identity has already been stolen.
The video is available on OCAP's YouTube Channel and on the Videos page at OklahomaMoneyMatters.org. Feel free to share this video or link to it from your website.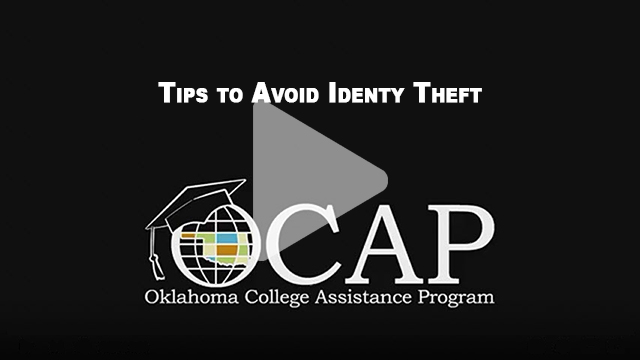 ---
The FAFSA is Here!
The 2019–20 FAFSA is here! Here are a few tips you can share with your students.
This year students can access the FAFSA by visiting FAFSA.gov or by using the NEW myStudentAid mobile app. The FAFSA should be completed as soon as possible after Oct. 1 to ensure priority consideration for some types of financial aid. It's best to gather all necessary materials before starting the FAFSA. Since the 2019–20 FAFSA allows applicants to use 2017 tax information, families can use their 2017 return to complete the application right away! There's no need to wait.
To complete and submit the FAFSA online, students and one of their parents/guardians will each need to create an FSA ID (Federal Student Aid ID) at FSAID.ed.gov . This username/password serves as an electronic signature on the FAFSA and certain student loan applications, and allows them to access other federal student aid websites. It's beneficial for families to create their FSA IDs before starting the FAFSA to speed up the application process. Visit UCanGo2.org to download an FSA ID Worksheet (in English and Spanish) to keep track of your information.
For more information and FAFSA resources, including educational tools and tutorial videos in English and Spanish, visit StartWithFAFSA.org.
---
OKcollegestart Workshops & Resources
Upcoming OKcollegestart Workshops
OKcollegestart is offering five training workshops this fall. These free workshops will focus entirely on using OKcollegestart to implement Individual Career Academic Plans (ICAPs) in your school. Join us to receive hands-on support as you select ICAP activities, customize and assign an ICAP to your students, track student progress, and identify how to use activity outcomes in advising. Workshop agendas may be found on the OKcollegestart Educator's Resources page.
Choose the date and location below that work best for you and click the date to register.
Tuesday, September 11 (Passed)
1:00 – 3:30 pm
Goodwell
Thursday, September 27 (Workshop full)
1:00 – 3:30 pm
Broken Arrow
Wednesday, October 3 (Workshop full)
9:00 am – 12:00 pm
Lawton
Tuesday, October 23 (Workshop full)
9:00 am – 12:00 pm
Oklahoma City
Thursday, October 25 (Workshop full)
9:00 am – 12:00 pm
Seminole
OKcollegestart Updates & Resources
We're pleased to share improvements and new resources for students and educators!
ICAP guides: New guides located on the Resources tab of your Professional Center provide step-by-step guidance as you select activities, run reports, and communicate with students
PreACT: Assign the PreACT as an ICAP activity
Student Account Creation: Students enjoy a simplified process when creating a new account
OKcollegestart Videos: Share these short promotional videos highlighting the benefits of OKcollegestart with students, parents and fellow educators.
For additional information, please contact Theresa Shaklee, Student Portal Coordinator at tshaklee@ocap.org or 405.234.4383.
---
Join Us at OCAP's Counselor Connect Workshop
The Oklahoma College Assistance Program (OCAP) is offering three Oklahoma Counselor Connect workshops. This workshop will provide an update regarding tools and resources available to support your efforts in educating students and parents as they prepare for higher education. The Oklahoma Counselor Connect workshop takes the place of the National Training for Counselors and Mentors (NT4CM), which has been discontinued.
This workshop's topics include:
Updates to FAFSA.gov and the new Oklahoma FAFSA Data Portal (OK-FDP)
UCanGo2.org and StartWithFAFSA.org college planning resources
Oklahoma's Promise
College App Week (CAW)
New OKcollegestart.org features (including ICAP)
Financial Literacy through Oklahoma Money Matters (OKMM)
The latest news on Undocumented Students
To register, click your preferred date below.
October 3, 2018 — Oklahoma City
---
Time to Register for College App Week!
College Application Week (CAW) 2018 is a nationwide effort to assist students as they navigate the college application process, giving them an opportunity to submit college applications with the help of knowledgeable staff and volunteers. Oklahoma's CAW will be held September 17-21, 2018. Can't do it then? Just schedule your CAW for any week this fall through the month of November.
So far, more than half of those who have enrolled this year are participating in CAW for the first time! Once all of our regular participants have enrolled, we have the potential of enrolling well over 100 high schools, technology centers, libraries and community centers for this important event!
If your school/organization hasn't registered yet, take a few minutes to see what CAW is all about by listening to what these Oklahoma counselors have to say about College App Week (YouTube) and by visiting OKCollegeAppWeek.org . Be sure to investigate the three different sections (Students, Event Coordinators and Volunteers) of the website to see all of the amazing free planning resources that are available.
To assist you in planning and implementing your CAW, we've set up three conference calls. Click on one of the links below to register for the call of your choice.
Tuesday, August 28, 10:00 a.m.
Thursday, September 6, 10:00 a.m.
Tuesday, September 11, 10:00 a.m.
Questions? Please feel free to contact Letha Huddleston at 405.234.4345.
.
---
OCAP Awarded FAFSA Completion Challenge Grant
The Oklahoma College Assistance Program (OCAP) is one of 25 organizations selected to receive a 2018-19 FAFSA (Free Application for Federal Student Aid) Completion Challenge Grant of up to $40,000 from the National College Access Network (NCAN). Through this project, which focuses on areas with current FAFSA completion rates below the national average, NCAN challenges each of the grant recipients to increase their city's FAFSA completion rates by at least 5 percent for the graduating high school class of 2019.
The 2016-17 FAFSA Completion Challenge demonstrated that cities could achieve significant progress in just one school year by working collaboratively across sectors to give students the FAFSA completion support they need, enabling students to tap into huge amounts of government resources that often go unclaimed. Across the board, the cities of participating organizations logged an average increase of 4.43 percentage points, helping to reverse a four-year decline in nationwide FAFSA completions. Completion of the FAFSA helps predict a student's success in higher education. Ninety percent of high school seniors who complete the FAFSA attend college directly after high school, compared to just 55 percent of FAFSA non-completers.
"We were very honored to be chosen as one of the 2018-19 FAFSA Completion Challenge Grant recipients," said OCAP's Outreach Manager Kelli Kelnar. "Our Outreach team is currently putting together a comprehensive plan of action to work with Oklahoma City Public Schools' students and parents to share the benefits of obtaining a college education, along with providing assistance and resources to help these students complete the FAFSA and successfully reach their future goals."
OCAP, an operating division of the State Regents, provides college access, aid awareness, financial literacy and student loan management programs and services that benefit students, parents, schools and community partners. OCAP offers numerous FAFSA resources for educators and students through StartWithFAFSA.org, UCanGo2.org and OKcollegestart.org. To learn more about OCAP, visit OCAP.org.
---
Understanding Your Credit Score: a lesson plan for adult learners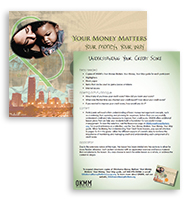 Oklahoma Money Matters (OKMM), the financial literacy initiative of the Oklahoma College Assistance Program and the Oklahoma State Regents for Higher Education, is proud to announce the newest addition to our financial education library, Understanding Your Credit Score, a lesson plan for adult learners.
Understanding Your Credit Score was carefully crafted with the economically vulnerable learner in mind and is divided into five sections to allow for more flexible utilization. Each section concludes with an application exercise and bonus material that complements the lesson. Participants will explore the factors that make up a credit score, learn how to access and review their credit reports, discover strategies for reducing debt, and learn the importance of making wise financial decisions that can help them reach their financial goals.
Both the Understanding Your Credit Score lesson plan and its corresponding Your Money Matters: Your Money, Your Way guide can be downloaded for FREE of charge from the resources page of OKMM's website.
OKMM also offers free workshops that highlight practical ways for adults to manage their money, even if they've reached a financial crisis point. Workshops are customizable and include topics such as:
Establishing an effective budget
Managing credit
Preventing identity theft
Saving for expenses and emergencies
Paying for continuing education and navigating the financial aid process
If you would like to schedule a workshop, request materials, or learn how OKMM can help you incorporate personal finance education within your existing service structure, please email OklahomaMoneyMatters@ocap.org or contact us at 405.234.4415 or 800.970.OKMM (toll-free).
---
OCAP Names New Executive Director
We're pleased to share with you that Melissa Neal, who has worked for the Oklahoma State Regents for Higher Education for more than 12 years, was named executive director for the Oklahoma College Assistance Program (OCAP) effective July 2. In this role, Neal provides strategic leadership for the agency and oversees all operational, fiduciary, regulatory and educational functions. Neal's selection follows the recent retirement of Mary Heid, who served as executive director of OCAP since 2014.
In her prior role as Educational Services Manager, Neal led the State Regents' and OCAP's financial literacy initiative, Oklahoma Money Matters, and OCAP's financial aid training programs, and cultivated an extensive network of campus and community partnerships to strengthen student, parent and service provider access to personal finance, borrower education and student loan management information, tools and expertise. Neal has strong relationships within Oklahoma higher education and the financial education and workforce development communities, serving on the Oklahoma Jump$tart Coalition for Personal Financial Literacy, including more than two years as board president; Oklahoma Council for Economic Education; National Council of Higher Education Resources College Access and Success workgroup; Federal Reserve Bank of Kansas City Economic Education Advisory Committee and a variety of other industry committees and advisory councils.
We look forward to Neal's leadership as executive director and to continued collaboration with our campus, community and industry partners as a provider of college access, aid awareness, financial literacy and student loan management programs and services.
Neal may be reached at (405) 234-4253 or mneal@ocap.org.
---
OKcollegestart.org Spring Workshops
OKcollegestart.org, the State Regents' student portal for college planning, hosted five training workshops this spring to instruct educators on ways to use the student portal and electronic transcript exchange system. High school counselors, whether new or experienced, were encouraged to attend. These workshops were held at the State Regents' office and on the campuses of University Center of Southern Oklahoma in Ardmore, Oklahoma State University — Tulsa and Northwestern Oklahoma State University in Enid.
Site features explored included:
Middle school component
User friendly navigation
Dynamic student planner
Career choice assessments and exploration tools
College planning tools for students and parents
Personalized, robust student portfolio
Individual Career and Academic Plan feature
"OKcollegestart is designed to assist educators as they prepare students to be college and career ready," said Theresa Shaklee, Student Portal Coordinator for OKcollegestart.org. "We're pleased to be part of the support system for not only counselors, teachers and administrators, but also for the students and families they serve." OKcollegestart.org provides free resources to help students and parents plan, apply and pay for education and training beyond high school. All user registrations come with a free email address that can be used to communicate with counselors and colleges. The dynamic Professional Center, a website for Oklahoma schools to use in conjunction with OKcollegestart.org, allows counselors to send transcripts from high school to high school and from high school to college, follow student activities on OKcollegestart.org and customize academic plans for individual students.
---
Ready Set Repay Offers New Videos
Ready Set Repay, the default prevention initiative of the Oklahoma College Assistance Program (OCAP), strives to help student loan borrowers make smart borrowing decisions and successfully repay their student loans. We receive a lot of questions about paying for school and repaying student loans, so we've developed and updated videos answering some of our most frequently asked questions:
These short videos outline specific steps to address these common issues. The videos are available on OCAP's YouTube Channel and on the Videos page at ReadySetRepay.org. Feel free to share these videos or link to them from your website.
---
icon indicates a link to an external website.
---
:: Our Website Network ::